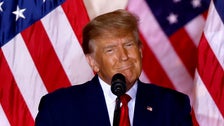 Donald Trump demanded in a Truth Social screed Friday with lots of capital letters that governors across the nation make voting as inconvenient as possible by banning most mail-in ballots and limiting voting to a single day.
And ballots must all be filled out on paper, he argued in his post.
"GET IT DONE," he commanded.
Trump appears to believe that the fewer people who vote, the better for the Republican Party. Banning mail ballots and limiting voting to a single day would almost certainly lower the numbers of voters. His scheme would be difficult for working people and parents, difficult for the elderly and disabled and just about impossible for the bed-ridden.
A study of 2020 voting patterns by the Massachusetts Institute of Technology showed that mail-in votes by Democrats increased substantially over mail-in voting by Republicans. "In total, nearly 60% of Democrats cast their ballots by mail in 2020, compared to just 30% for Republicans," the study noted.
Still, the loss of that 30%, or a portion of it, could lose a race. Some key Republicans are now reportedly pushing for more mail-in balloting and early voting in the wake of the party's poor showing in November's midterm elections.
Former Republican House Speaker Newt Gingrich, for example, called on his party to support mail-in ballots after Herschel Walker's defeat in the U.S. Senate race in Georgia, where Republicans passed a restrictive voting law last year that made it harder to vote by mail.
And until laws are changed, Republicans need to vote by mail or in person early if only to compete with Democratic voters.
"Our voters need to vote early. There were many in 2020 saying: Don't vote by mail, don't vote early. And we have to stop that and understand that if Democrats are getting ballots in for a month, we can't expect to get it all done in one day," Republican National Committee chair Ronna McDaniel warned on Fox News after the midterm elections.
The only exceptions he would make under his limiting system would be "far-away military" personnel, and those with a "proven illness."
Critics had some pushback:
#Trump #Battles #Truth #Social #Voting #Inconvenient