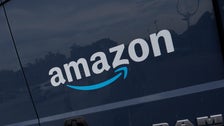 Amazon told employees Wednesday it would eliminate 18,000 jobs across the company, much more than previously reported as tech companies across the country cut costs and rein in hiring amid concerns about the economy.
CEO Andy Jassy said Amazon had hired rapidly over the last few years as consumers spent wildly online during the isolated years of the COVID-19 pandemic. But fears of a recession and a cutback in consumer spending has forced companies to scale back.
The layoffs will mainly be in the tech giant's corporate ranks, The Wall Street Journal reported, and represent about 1.2% of the company's 1.5 million employees.
"This year's review has been more difficult given the uncertain economy and that we've hired rapidly over the last several years," Jassy wrote to employees. "Amazon has weathered uncertain and difficult economies in the past, and we will continue to do so."
Employees affected by the layoffs will be told beginning Jan. 18. Jassy said the news, which broke in The Wall Street Journal, was meant to be shared internally but had been leaked to the media before those decisions could be made.
The company had previously said it would lay off about 10,000 people, mainly in its device and book businesses, but it warned it could make deeper cuts in the future.
"To those impacted by these reductions, I want you to know how grateful I am for your contributions to Amazon, and the work you have done on behalf of customers," Jassy wrote to employees. "You have made a meaningful difference in a lot of customers' lives."
Many tech companies have been hurt by the post-pandemic economy, and the likes of Meta, Twitter and Salesforce have all said they would conduct mass layoffs after a long period of hiring.
#Amazon #Layoffs #Climb #Employees #Tech #Giant #Moves #Cut #Costs