AppleInsider may earn an affiliate commission on purchases made through links on our site.

We went hands-on with all of the new smart home products that work with Apple HomeKit so far this year, trying out everything from smart lights to wall-mounted controllers.
All of the items we're highlighting here work directly with Apple Home — whether through HomeKit natively, Matter, or Siri Shortcuts.
Roborock S8 Pro Ultra
The ever-popular Roborock S7 MaxV Ultra is being usurped this year by an all-new model. The just-announced Roborock S8 Pro Ultra is the S7 MaxV Ultra's successor and arrives with several improvements.
There are now two rollers on the bottom of the vacuum that help funnel debris into the bot's dustbin. Roborock has upgraded the suction now to 6,000Pa, and the rollers will lift when in mop-only mode.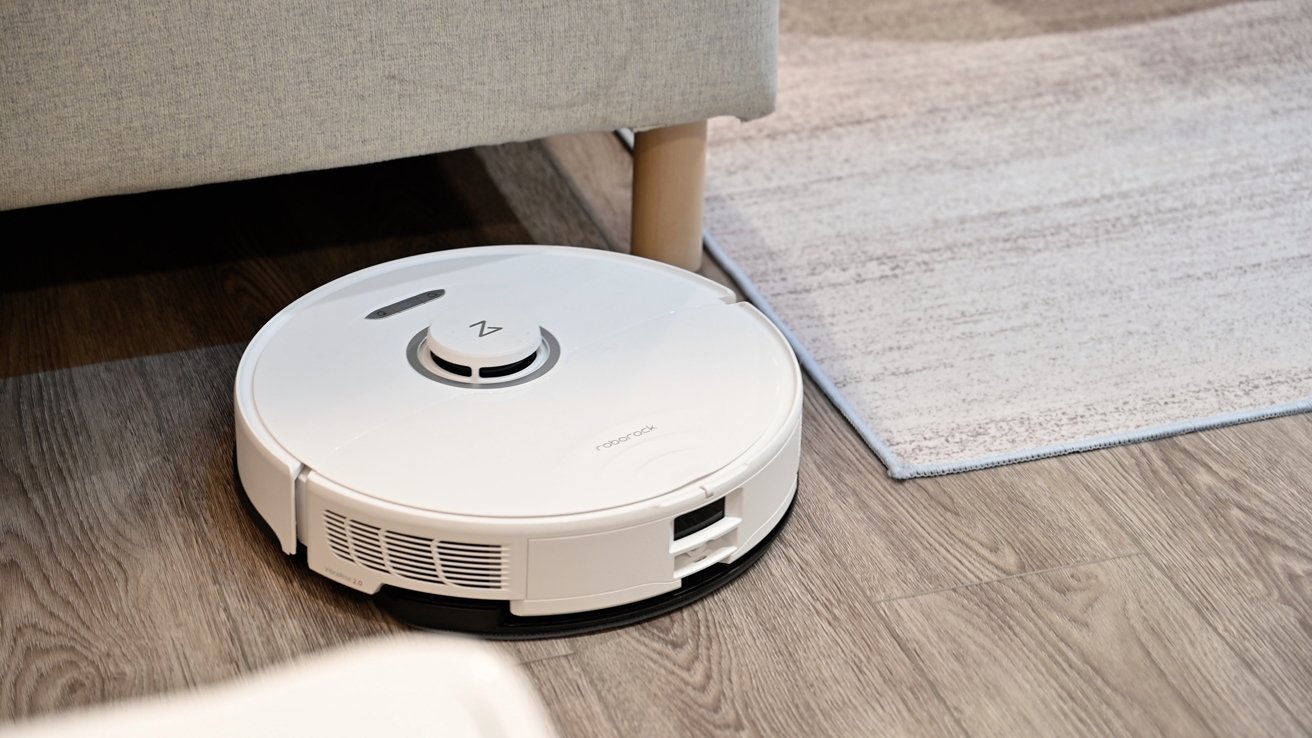 When mopping, there is now a second scrub motor, doubling the oscillating pattern that cleans your floors.
Roborock told us during our hands-on that it also updated the sensors and processing to make it smart and more reliable than its predecessor.
This model still ships with an empty-wash-fill station, which now has a redesigned appearance that covers the front in a single piece of plastic. It's a much more sleek appearance than in previous versions.
When docking, the station will empty the dustbin, clean the mop, drain the dirty water, and refill the bot with fresh water — the same as the S7 MaxV Ultra. What's new is it will now blow hot air on the mop to dry it, preventing bacteria growth and smells.
Technically, HomeKit doesn't support vacuums, but this can be integrated into HomeKit scenes using the built-in support for Siri Shortcuts.
Nanoleaf
Nanoleaf had plenty to show off at CES this year for HomeKit users. Its Sense+ lineup of smart learning switches is finally being released after the company waited for Matter to launch.
The switches learn based on user activity, and over time, they will start to proactively control your room's lighting. Nanoleaf will sell a switch, a dimmer, and a learning hub, though some of the company's other lighting products can also double as that hub.
Besides switches, Nanoleaf is launching its Skylight lights. These ceiling-mounted tiles can expand to different shapes and patterns and support millions of colors.
Twinkly
We got a first-hand look at Twinkly's new light panels at CES where it was also showing off its mirroring software. The demo had a PC running through game footage and that footage playing, albeit pixelated, on a wall of Twinkly tiles.
Apple Home can turn the lights on and off, adjust the brightness, and change the color.
Yeelight
With the launch of Matter, Yeelight was one of the limited companies that had new products to announce. Now we got our first look at Yeelight's new matter-enabled lighting cubes.
The cubes ship in three configurations, including a solid gradient block, small circular dots, or a mini spot. They can be magnetically connected to create any setup you'd like.
Using the company's app, you can create other lighting effects such as a music visualizer, or display the time.
Govee
Govee was big on showing off its AI-driven HDMI sync box, but it lacks HomeKit or Matter support. The AI allows the lights to react to in-game actions such as offing a boss.
In the HomeKit space, Govee's M1 light strip has been certified to work with Matter, making it the first Govee product to work with the Home app.
SwitchBot Hub 2
SwitchBot's Hub 2 now works with Matter, bringing native support for the Home app for the first time.
With the new hub, the company's other products are added to HomeKit too. The company demonstrated how the existing SwitchBot door lock and curtain controller can show and be controlled via the Home app.
This is especially great for users who previously purchased these SwitchBot products.
Eve
Eve announced that Eve Motion, Eve Door & Window, and Eve Energy will be available with Matter support off-the-shelf starting at the end of Q1 2023. They will be some of the very first Matter devices at retail, versus requiring a post-purchase firmware upgrade.
In terms of new products, the company has new options for HomeKit-controlled Venetian and honeycomb shades, plus a retrofit option for those with existing roller shades.
All the MotionBlinds products work with Thread and are promised to be upgraded to support Matter in the future.
GE Cync
The Cync line from GE has historically not supported Apple Home, but with Matter, that is about to change.
GE has announced its existing A19 bulb and smart plug will be upgraded to Matter, bringing them into the Home app.
Lutron
Lutron showed off several new colorways for its Claro switches which are now available in black, light almond, ivory, brown, and grey alongside white.
Then it announced a new Claro accessory switch that can be set up for an additional control point in a room without adding to the accessory limit imposed by Lutron's bridge.
Mui Board 2
Unsurprisingly, the big feature addition to the second-generation Mui board is support for Matter. As a Matter controller, it can control many Matter accessories in your home.
We got to test a demo of Matter support and we could tap the wood surface to interact with it. By tapping the window, we could see the outside temperature and humidity, while tapping the lamp lets us control the lights in the room.
Anything that gets updated will Matter has the potential to interact with the Mui board 2.
Yale Smart Safe
Finally, released right after CES, we have the Yale Smart Safe. You can open the Yale Smart Safe with HomeKit, a keypad, or a physical key.
We got the chance to test the Yale Smart Safe in our home and found it to be a reliable solution for protecting small objects or documents. It only takes a few moments to unlock via the Home app and with a Home Hub, you can get remote access without buying the Yale Connect bridge.
#Hands #HomeKit #gear #announced #year #AppleInsider