Stephan Shaw says he is confident of becoming America's next heavyweight boxing champion and beating Britain's Dillian Whyte in a potential future matchup.
The 30-year-old from St Louis, Missouri, has the opportunity to make a statement on Saturday night when he faces the dangerous Efe Ajagba in New York, live on Sky Sports Arena at 1am on Sunday morning.
Shaw has amassed a perfect 18-0 record, with 13 knockouts, since turning professional in 2013, but his career finally picked up real momentum last year as he delivered three impressive victories.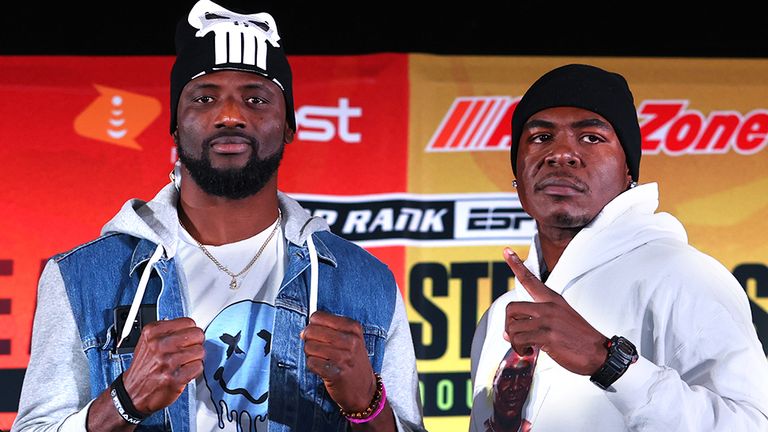 "I feel like this is a great opportunity for me," Shaw told Sky Sports. "This will bring more eyes and let the world know that Stephan Shaw is a force to be reckoned with in the heavyweight division.
"I just want to show that I belong with some of the best in the world. Not just heavyweight, just some of the best fighters in the world.
"I want to show that I can beat a guy of this calibre and I'm very confident that I can do it."
While Deontay Wilder is once more active and seeking an opportunity to become a two-time world champion after his defeats to Tyson Fury, the USA is desperate for a new star in boxing's most popular division.

Live Fight Night International



Sunday 15th January 1:00am

Unbeaten 23-year-old Jared 'Big Baby' Anderson has been touted as the future of American heavyweight boxing, but 'Big Shot' Shaw is adamant he is first in line
"Absolutely, I feel like I'm the next American heavyweight world champion," he said.
"I've been doing this for a minute. It's sad almost that the eyes are only just getting on me, I've been pro since I was 21 years old, and I always wanted the eyes to be on me.
"It's not like other guys are fighting top level competition that's making people be like, 'oh, he's beaten great fighters already.' It's just they're getting main level TV spots against C-level fighters.
"And here I am, my first real main event, and I'm fighting a fighter with an Olympic background."
If things had played out as he'd have liked, Shaw may already be a well-known name in the UK.
Another rising heavyweight Jared Anderson continued his menacing 100% knockout record as he stopped Jerry Forrest and then challenged British rivals Dillian Whyte and Daniel Dubois

"I would love to fight in Britain," Shaw said. "I was supposed to fight Jermaine Franklin in 2021 and that was going to be my first main event fight, and I remember leading up to that fight, Eddie Hearn had mentioned that the winner of our fight could have been a possible opponent for Dillian Whyte.
"But Jermaine Franklin pulled out on four days' notice with Covid. Then fast-forward he ended up getting a Dillian Whyte fight.
"I would have loved to get that opportunity. Franklin didn't fight anybody of any calibre, nowhere near Efe Ajagba, to get to that plateau."
Whyte edged out Franklin on a majority decision following a close contest at Wembley Arena in November.
"He did very well against Dillian Whyte, and I felt like would have fared even better," Shaw added. "I felt like I could have, and am, capable of beating Dillian Whyte.
"I feel like that would be a great fight."
Watch Ajagba versus Shaw live on Sky Sports Arena at 1am on Sunday morning.
Chris Eubank Jr vs Liam Smith is on Saturday January 21, live on Sky Sports Box Office. Book it now if you are a Sky TV subscriber or a Non-Sky TV subscriber. Buy tickets here.
#Stephan #Shaw #declares #American #heavyweight #world #champion #calls #Dillian #Whyte