Usman Khawaja said it was the incessant Sydney rain that stranded him shy of a maiden double-ton, rather than any "harsh" decision by skipper Pat Cummins.
Speaking on Triple M after play, Khawaja said had play started on time, the plan was always to continue batting.
"The plan was always to bat in the morning. The rain was the only thing that was going to halt it – and it rained at the worst time," he said.
"Every time we thought we were going to get on, a little bit of rain would come through. Then they took the covers off and there were a few muddy patches. It just kept getting less likely and less likely (we would bat)."
Khawaja said he could see Cummins mulling over the decision as the day went on.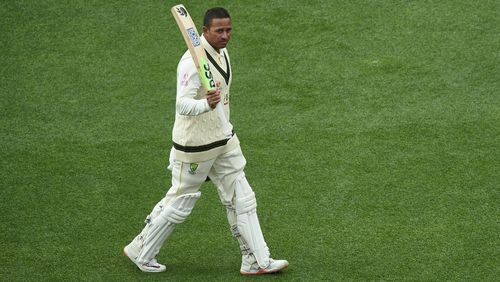 "I knew obviously Patty wanted to bowl at some stage … before he even came up to me and talked to me, I could sort of read the sign. 
"I honestly just went up to him and went: 'Patty, whatever you need to do to win this Test match, just do it. I love playing for Australia and you know if I'm not playing this game to win this game, it'd be wrong for me to ask to go out there for two or three overs and just do what you feel is right.'
"I got in first. I don't want him to come to me. I just went: 'Mate, you make the decision, take the emotion out of it and do what you need to do.' I made the initiative to make sure I got up to him first."
Khawaja ended Australia's first innings 195 not out.
South Africa will resume this morning at 6-149. Australia is an outside chance of victory on day five. The first job is to take the final four first-innings wickets for less than 126 runs to enforce the follow-on.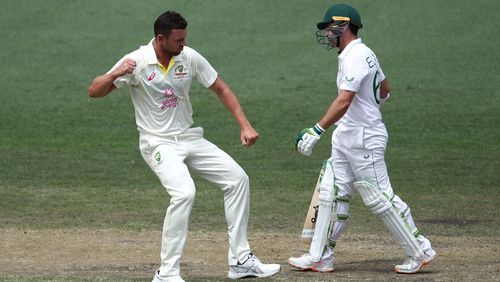 (Josh Hazlewood celebrating after the wicket of Dean Elgar)
#LIVE #Aussie #parttimer #crucial #breakthrough