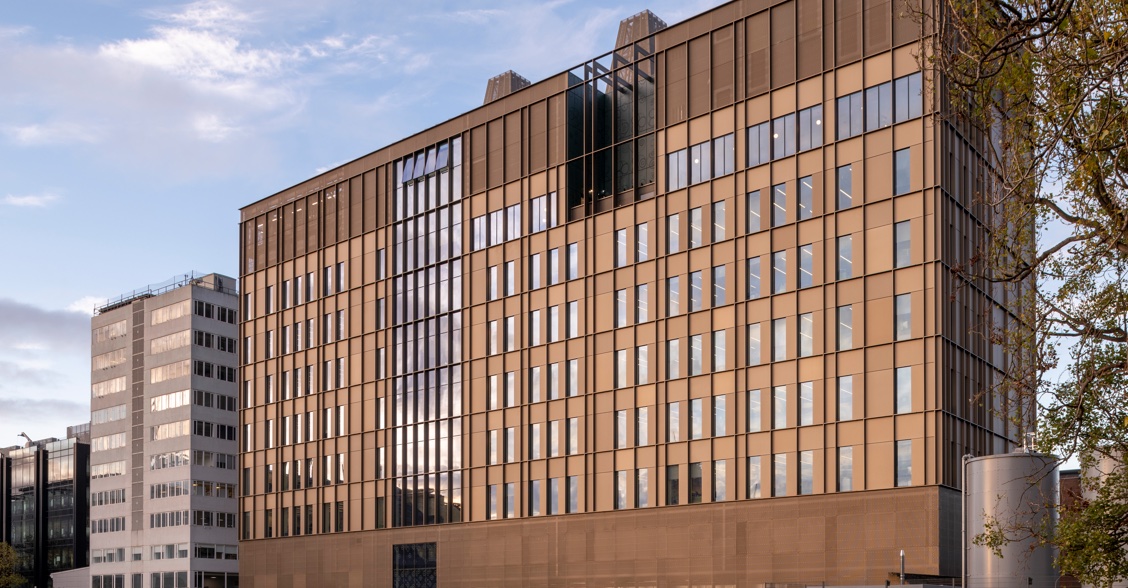 London Institute of Medical Sciences' cutting-edge new building – engineered by Buro Happold
The Medical Research Council's new home for its London Institute of Medical Sciences (LMS) has reached practical completion. Credited with many life-changing discoveries, the new 12,500m2 building will accommodate over 40 research groups for the first time in a single ultramodern space to enhance collaboration and its research.
In collaboration with Imperial College and located at their Hammersmith Hospital campus in White City, the project involved engaging with multiple stakeholders with complex technical requirements on a congested hospital site. The Buro Happold team of laboratory designers and engineers were critical in the successful delivery of this important new research building, which will have its official opening in early 2023.
Richard Walder, Director, Buro Happold said, "The new LMS building will be an inspirational environment; well executed and delivering on the engineering challenges over a wide-ranging scientific brief is testament to the collaborative approach between the client, design and construction teams. The new LMS will bring huge benefits to the UK research community for many years to come"
Chris Abell and Bruce Nepp, (formerly Abell Nepp; now part of Buro Happold) provided laboratory briefing and design services. Working closely with architects Hawkins\Brown, the building incorporates the scientists' specific needs into world-class technical facilities and workspace, including super resolution imaging and cryogenic electron microscopy (cryoEM) suites, data centre and specialist support facilities.
Carol Lees, Partner, Hawkins\Brown, said: "The LMS building carefully weaves together highly controlled laboratory environments with write-up neighbourhoods that have a warmer, homely feel to support researchers' sense of wellbeing. We placed a heavy emphasis on breakout areas, circulation spaces and cafés to encourage chance encounters and collaboration."
The science is supported with public engagement spaces and social facilities including a café; all constructed around a visually impressive feature staircase that runs the full height of the building in a single sweep from the atrium.
Design and engineering solutions encouraged the sharing of specialist technical equipment and activities by placing them between open flexible laboratories and write-up spaces. This allowed access to the specialist labs from either end, saving space, costs and encouraging greater collaboration between scientists.
Bruce Nepp, Director, Buro Happold Laboratory Consultancy, said "Buro Happold and Hawkins\Brown worked together to develop a complex series of technical briefs into an outstanding building where high-performance laboratory facilities sit alongside non-lab environments to create collaborative research neighbourhoods supporting their own specialisms and the entire Institute."
With the super resolution imaging and cryoEM suites, our acoustics team needed to mitigate vibration and electro-magnetic fields to exceptionally low levels, including those generated by moving building lifts and external vehicle movements. This also included 20% heavier foundations in these locations, as well as careful consideration of the location of plant and logistical facilities.
The location of the building on a fully operational hospital campus also created its own considerations. Its footprint and access were restricted, requiring a tall building. The construction activities couldn't compromise the functioning of the hospital including the blue-light routes.
"Our research is built upon effective collaboration and the design of our new building has already changed the way we work. We are better connected with one another", commented Jamie Meredith, Head of Operations, Medical Research Council, London Institute of Medical Sciences.
Buro Happold adopted a strategy of reducing energy consumption through efficient design and energy recovery; challenging traditional standards while putting user safety at the forefront.
This was achieved through a series of measures including optimising air change rates and a focus on HVAC plant efficiency by connecting to the sitewide district heat network which is in the process of being decarbonised. Also, a photovoltaic array (PV) was added to the roof along with interventions for rainwater attenuation and sedum (a plant with water-storing leaves) has been added for biodiversity.
All these measures will allow the facility to benefit from lower running costs so that more money can be dedicated to important scientific work.
About Buro Happold
We are an international, integrated consultancy of engineers, consultants and advisers, with a presence in 31 locations worldwide, over 70 partners and 2,200 employees. For over 45 years we have built a world-class reputation for delivering creative, value led solutions for an ever-challenging world.
About Hawkins\Brown
Hawkins\Brown is an internationally renowned practice of architects, designers and researchers, based in London, Manchester, Edinburgh, Dublin and Los Angeles. The practice brings a collaborative approach to projects across a range of types and scale in six main sectors: Civic, community & culture; education; workplace; transport & infrastructure; healthcare and residential.
About The MRC London Institute of Medical Sciences (LMS) 
The MRC London Institute of Medical Sciences (LMS) is a biomedical research institute dedicated to advancing the understanding of biology and its application to medicine. Our research focuses on the connection between our genes and environmental stresses. We aim to translate this knowledge to improve the understanding, diagnosis, and treatment of some of the UK's biggest health challenges. The LMS is core funded by the Medical Research Council (MRC), which is part of UK Research and Innovation (UKRI).
#London #Institute #Medical #Sciences #completes #cuttingedge #building