Posted on at 3:27 pm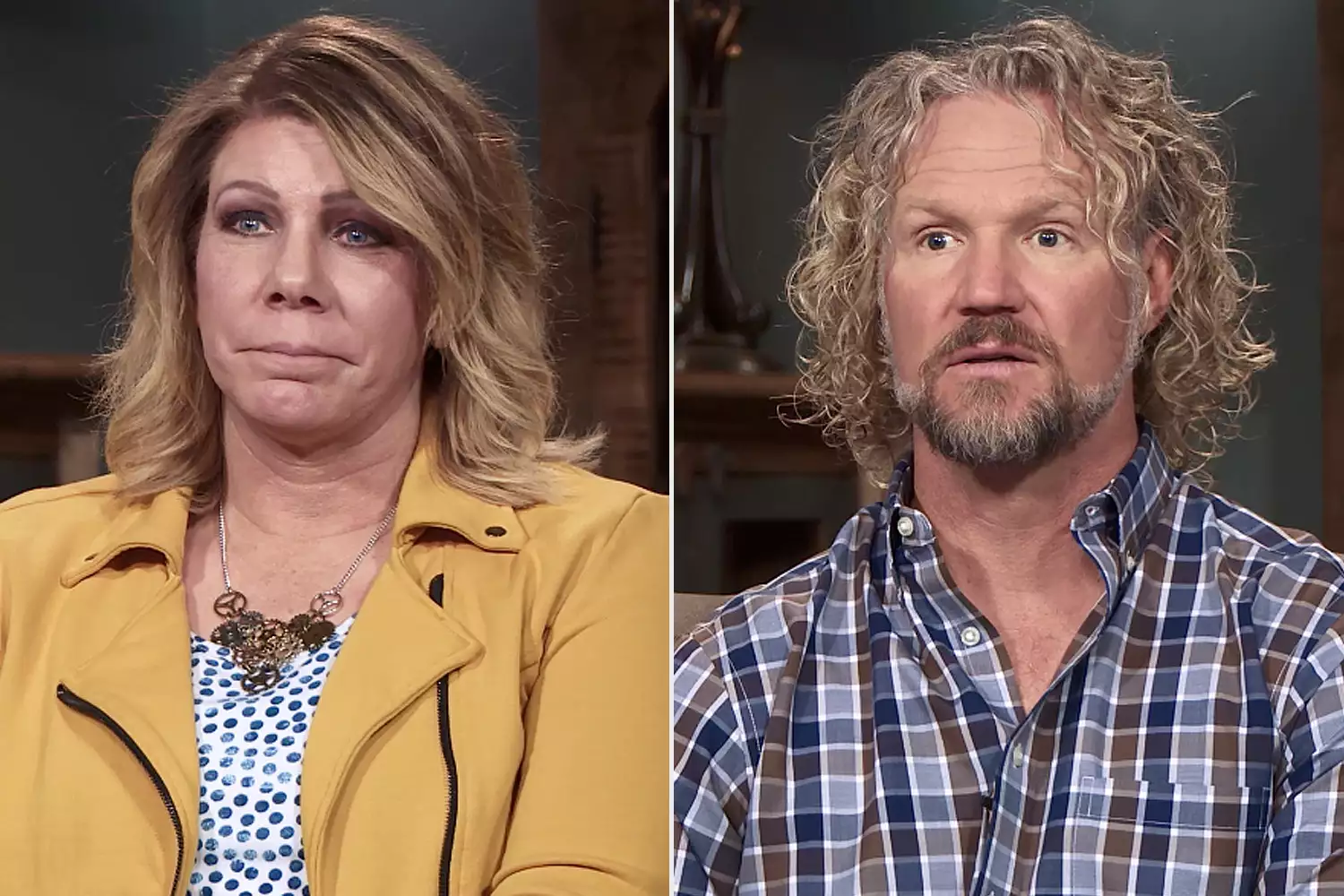 'Sister Wives' Kody Brown Confirms 'Permanent' Split From Meri and Slams TLC Producers
Sister Wives star Kody Brown posted and deleted a tweet Tuesday, confirming his permanent split from first wife, Meri Brown.
Kody threw shade at an unnamed outlet that seemingly reported the duo's decision, before he confirmed the news.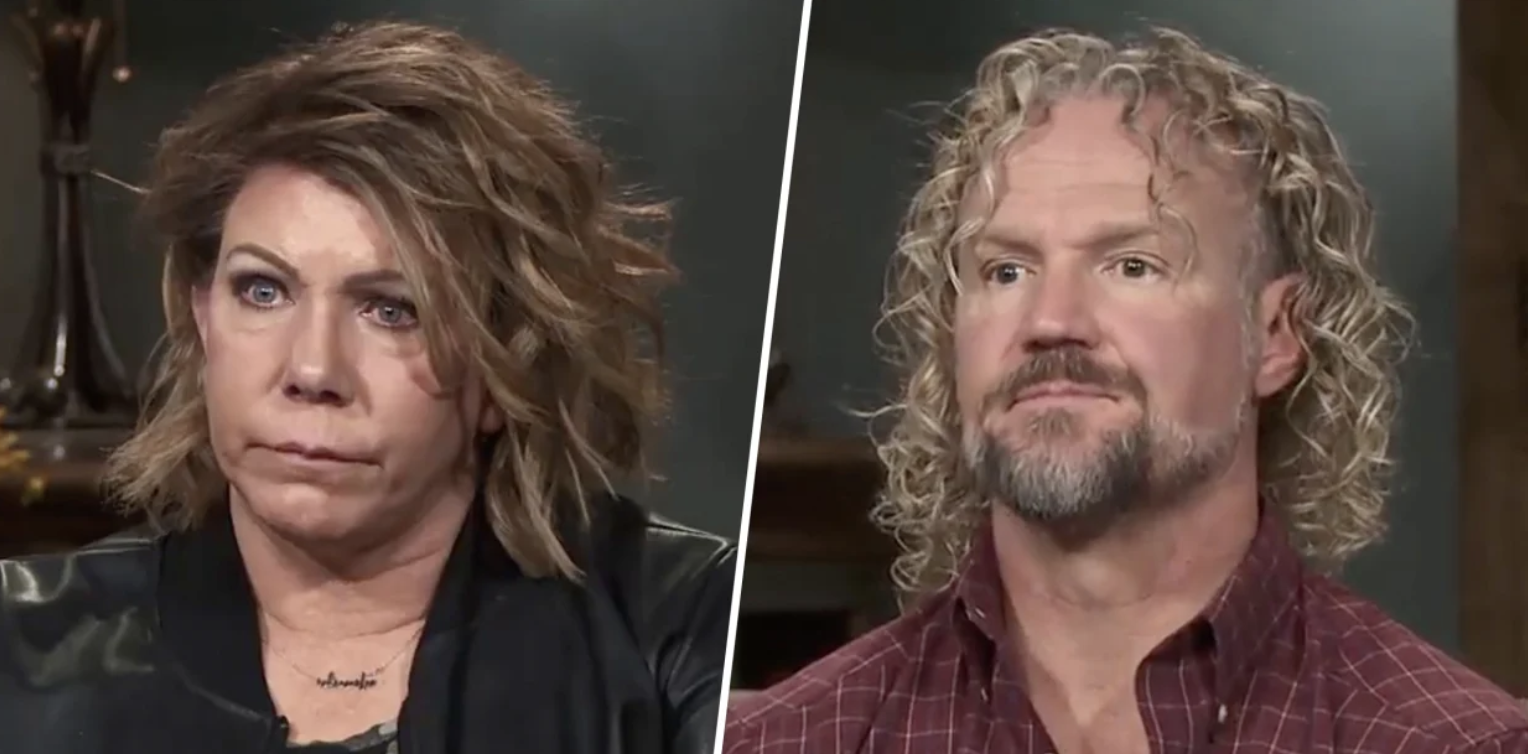 Fans grabbed a screenshot of the message before it vanished on Twitter—posting the tweet in a popular Sister Wives forum. Kody began his message by taking a shot at the show, pointing to an "unapproved press release."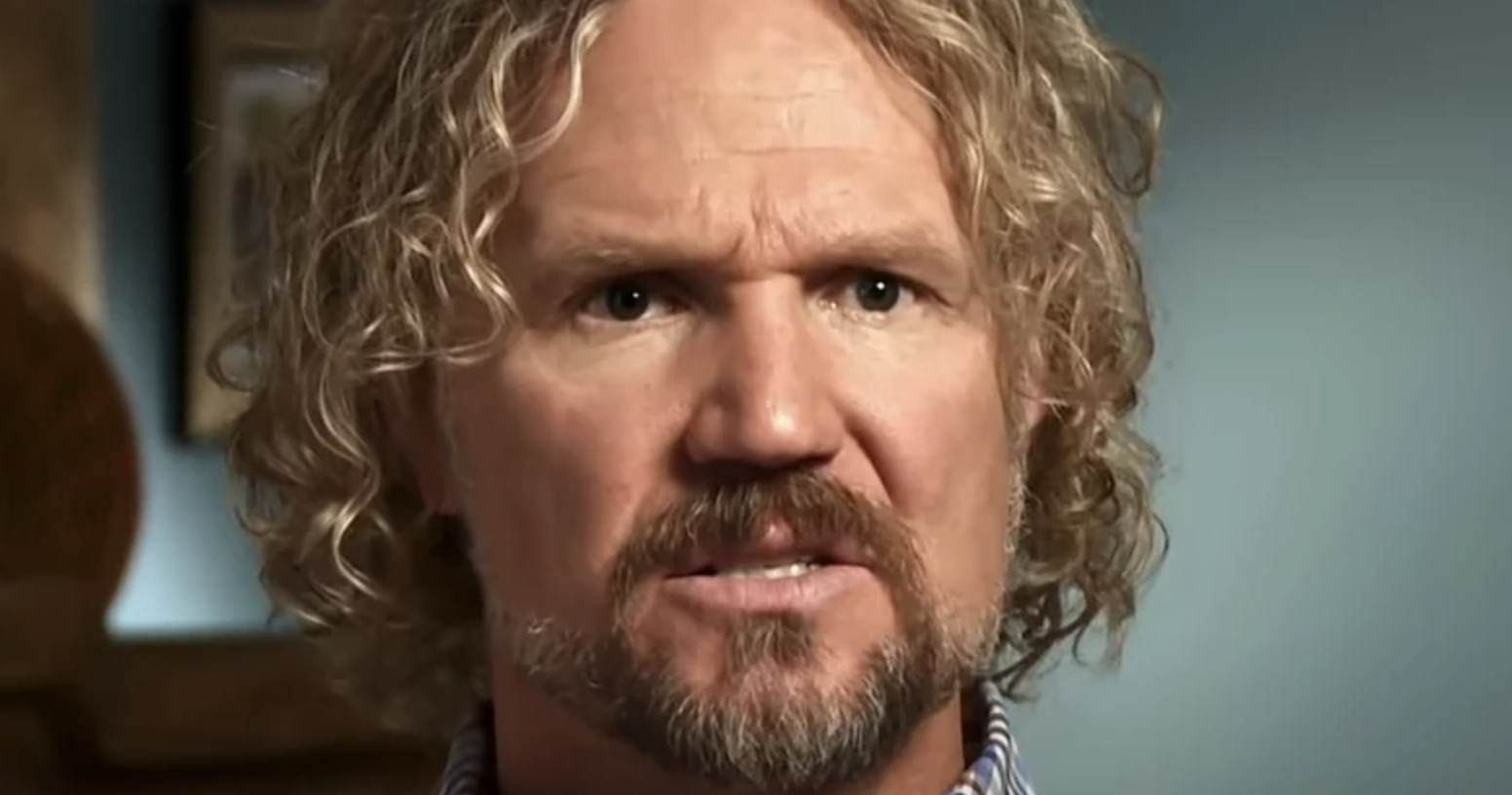 The tweet read: "In light of a recent unapproved press release, we feel compelled to share our own truth, in our own way, and in our own timing."
He continued—"After more than a decade of working on our relationship in our own unique ways, we have made the decision to permanently terminate our marriage relationship."
"During this process, we are committed to kindness and respect toward each other and to all members of our family, and we are all committed to the continued healing of any and all relationships within the family so that we can move forward with forgiveness, grace, and love."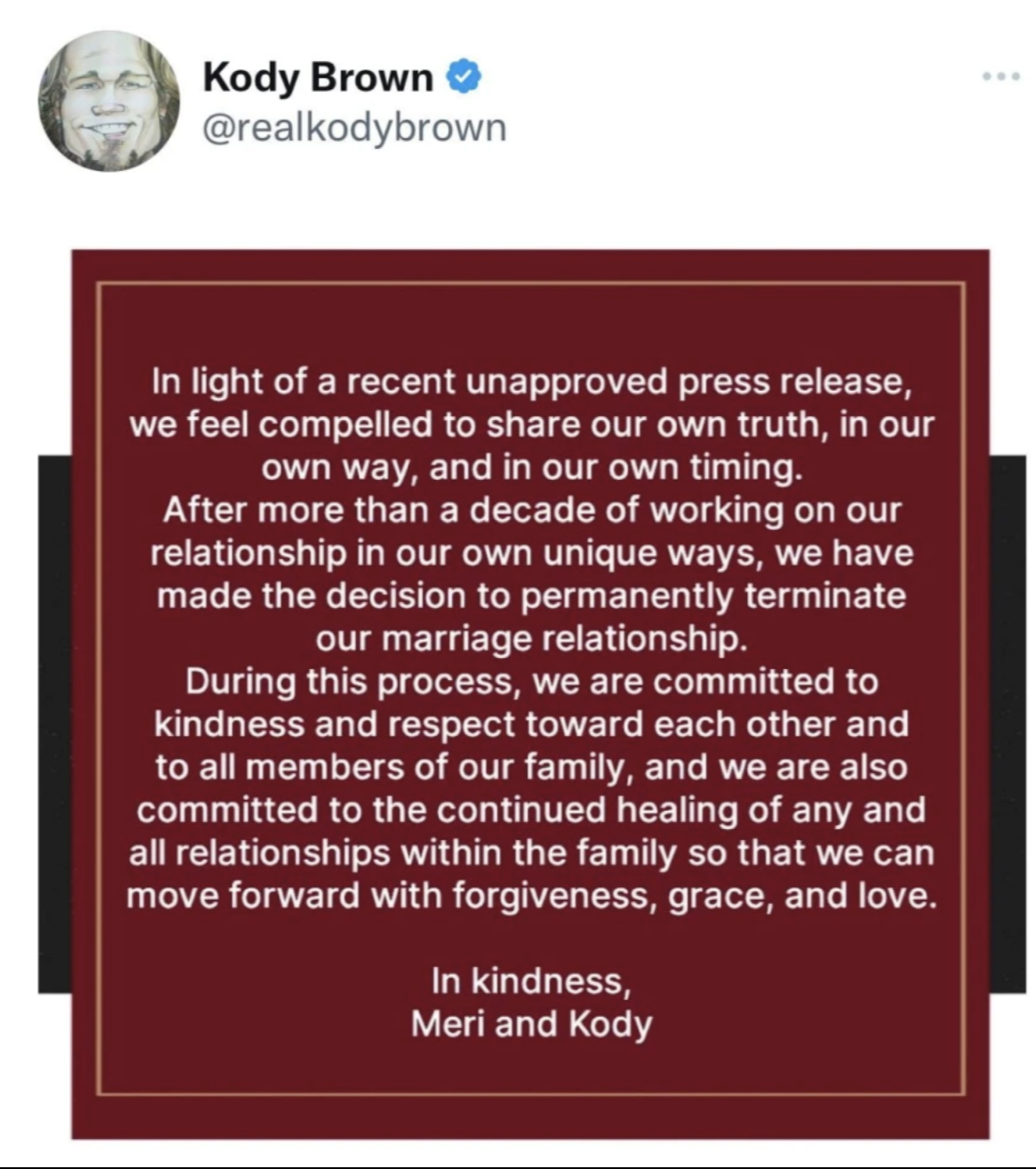 Kody and Meri signed the statement, which later reappeared on Kody's Twitter page.
Meri shared the same message on Instagram, offering more context in the post's caption.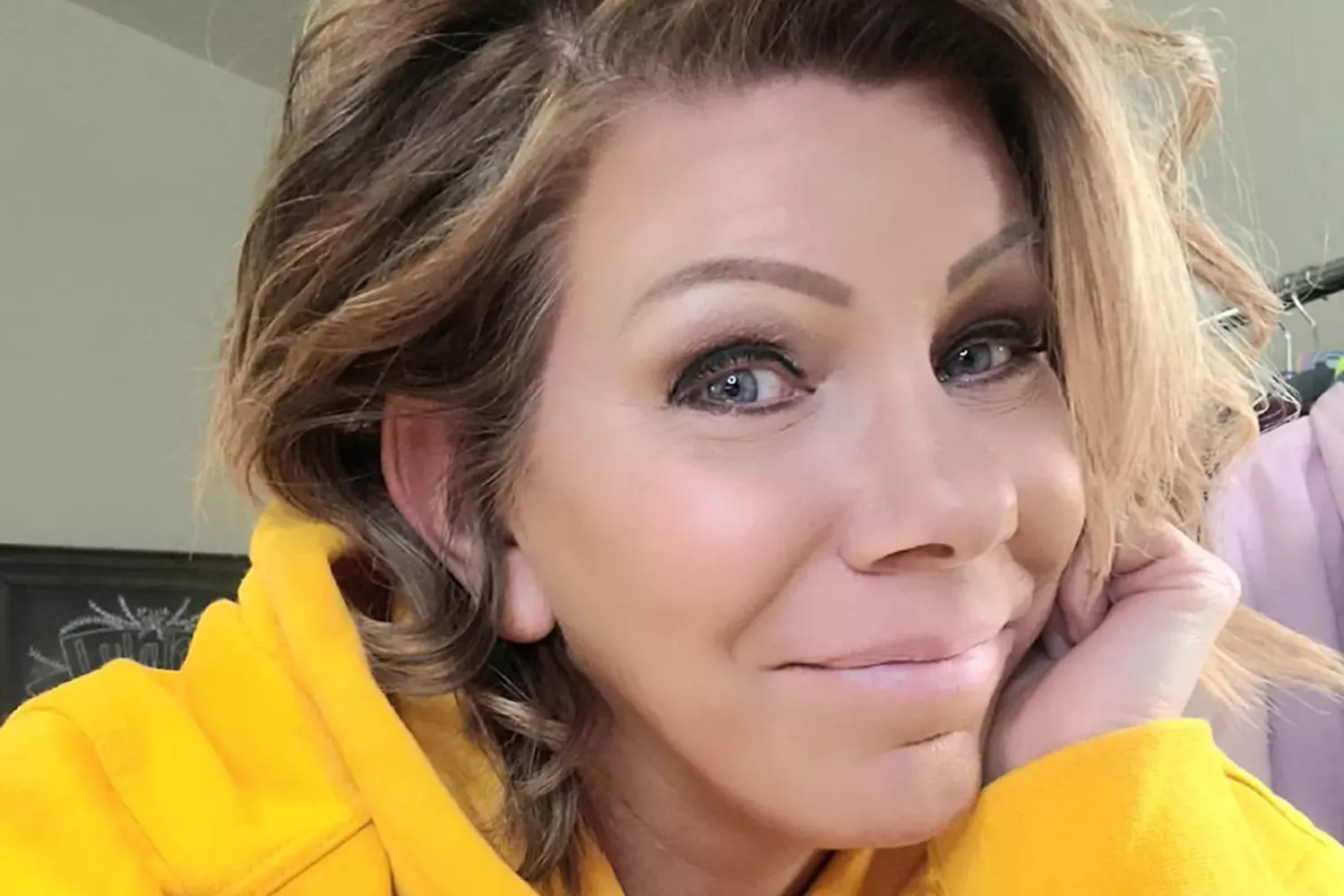 She wrote: "Today I reclaim my power. Last month's article by the 'reputable' People Magazine quoting me as saying that I had 'confirmed' that Kody and I had separated was a complete lie. The information, content, and timing was inaccurate and was based on a highly edited version of events that had been filmed months prior."
Meri was referring to footage from the Sister Wives: One On One special, which spotlighted Meri hinting that her marriage to Kody was officially over.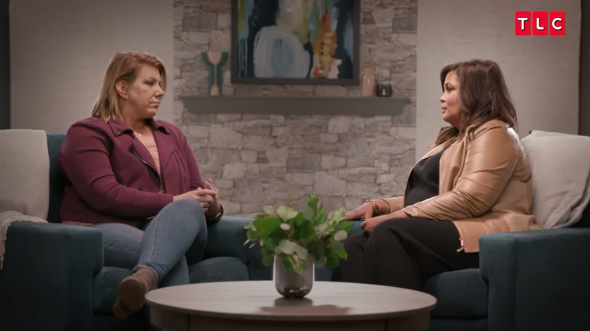 The TLC star's statement continued —"In the months since the taping of those interviews, Kody and I have had many open and honest discussions that have led to our announcement today."
She went on, "There is so much more to be told about this story, and I assure you, my truth will be told. But for now, know that there is peace in my heart, and I hold no animosity toward Kody. I am not, and pray that I never will be, in a place where I will enjoy making, or seeing you make, rude and demeaning comments about him."
"You likely will have a range of emotions and opinions at this news and want to offer comments. In doing so, please be considerate of the fact that we are real people, with real lives, and real emotions. Please try to refrain from congratulating me at the break up of my marriage. I value the relationship I had, and look forward to stepping into 2023 and my future with grace, kindness and power."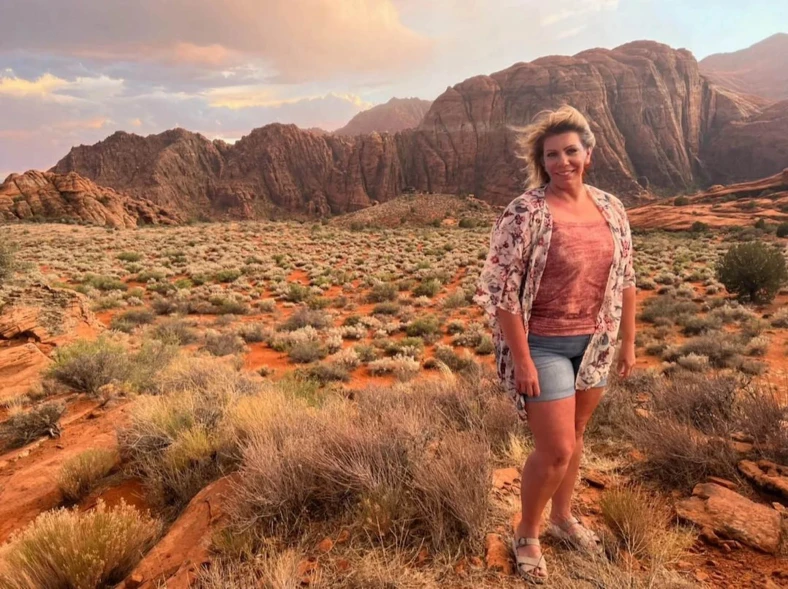 Meri concluded, "Step into kindness with me. Put positive energy out into the world. Worthy Up!"
Kody, 53, admitted that he didn't consider himself married to Meri, 51, during the recently concluded season of the TLC series. 
"If she wanted to move on and marry another, she wouldn't get an argument with me," he told cameras.
Meri shared, "Even since being in Flagstaff, [Arizona], he has led me to believe that he was trying. You know, our first anniversary that we had here in Flagstaff, it was cheers to a new beginning as opposed to this last anniversary he's like, 'I don't even know why you called me Meri.' He's like, 'We're not married. We're not acting as married.'"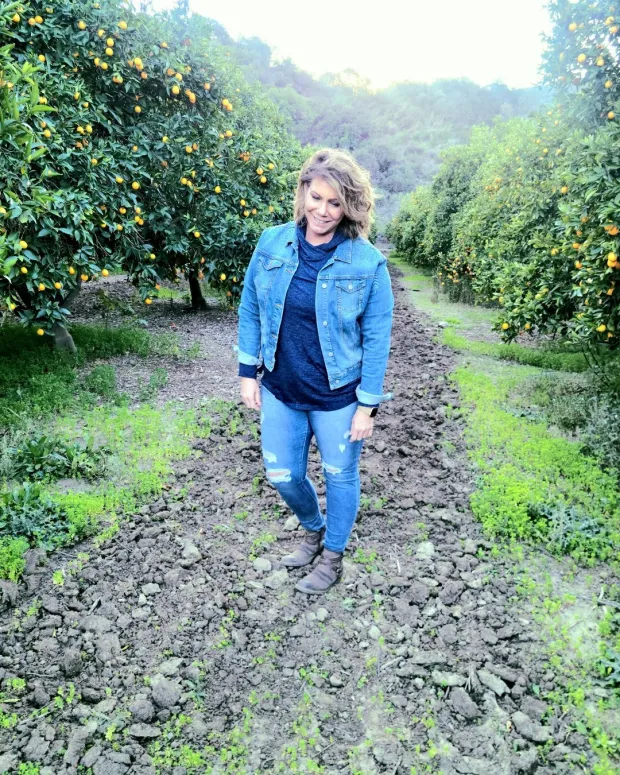 Meri revealed that Kody resisted going public with his position, but told host, Sukanya Krishnan, that he had clearly "made the decision" to give up on their spiritual marriage. She added that while she would be "open" to a reconciliation, she didn't think that Kody was "interested."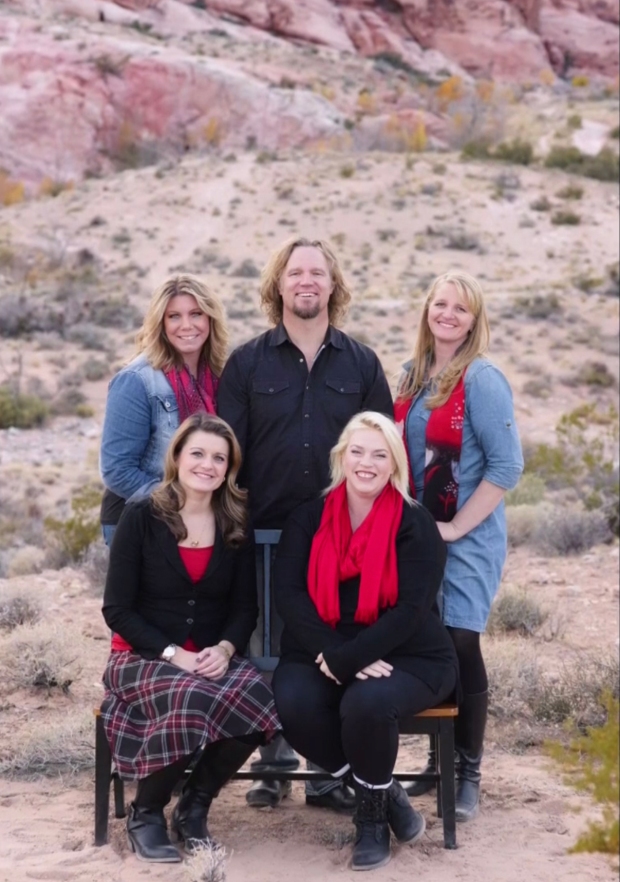 Kody's breakup from his third wife, Christine, was documented during Season 17 of Sister Wives. Kody's second wife, Janelle, confirmed that they had also separated during the tell-all special. Kody remains in a legal marriage with fourth wife, Robyn.
Stay Connected With All About The Tea: Twitter Ι Instagram Ι YouTube Ι Facebook Ι Send Us Tips

#Sister #Wives #Kody #Brown #Confirms #Permanent #Split #Meri #Slams #TLC #Producers